A NEW
DISSECTED MAP
OF
North America
FOR
TEACHING YOUTH
GEOGRAPHY
EACH DIVISION OF THE MAP NEATLY STAINED
AND DISTINCTLY OUTLINED WITH
DIFFERENT COLOURS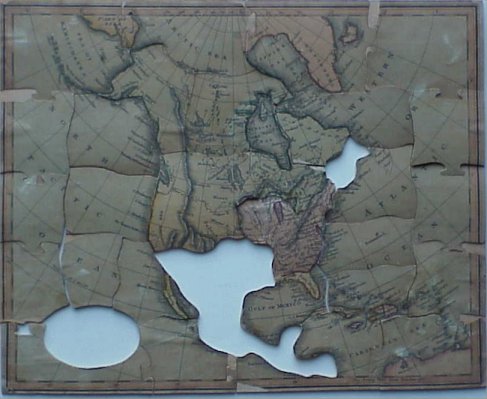 Another puzzle that has seen better days. (or a better century!) The box is well made and similar in construction to other late eighteenth century boxes, but made with a less expensive wood. The map has more details: cities, mountain ranges, rivers than the one above, so I believe that it is the newer of the two. There is some writing on the bottom of the box,


7/6
E.C. Lee, 1826
from her cousin Susan Lowell.


This ~35 piece puzzle is 11.25" x 9.25" and I believe that the wood is maple. The box is 5.5" x 7.25" x 1.75".

Thanks to Keith from the B.C.D. for helping me identify this puzzle.