Varty's
SERIES OF
GRAPHIC
ILLUSTRATIONS
OF
ANIMALS
SHEWING THEIR UTILITY
TO MAN
THE ELEPHANT
Published by THOMAS VARTY 31 Strand
And Sold by all Booksellers and Toymen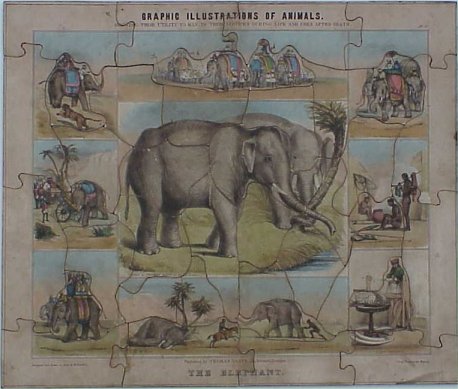 "... their service during life and uses after death."
Roake & Varty were publishers located at 31 Strand from 1820-1847. From 1847 to 1853, Varty was the sole owner. The advertisement on the inside top cover (shown below) makes no mention of Roake, so I assume this puzzle is from the 1847-1853 time frame. The puzzle above is advertised, "Fitted up in handsome boxes, price 6s each, with a coloured guide print." The puzzle has 39 pieces and is 14.5" x 12.5" made from mahogany with a paper backing.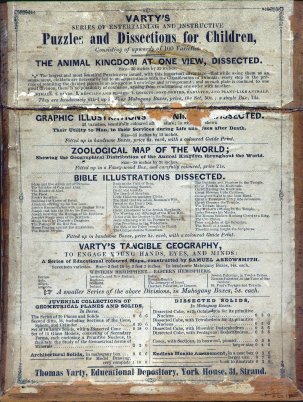 The ad features a puzzle of the whole animal kingdom, "the largest and most beautiful puzzles ever issued.. ". At 30" x 22", a surviving example of one of those puzzles would be an exceptional find!